Er ist einer der am meisten verehrten britischen Schauspieler und hat JMW Turner und LS Lowry auf der Leinwand porträtiert – und jetzt lässt Timothy Spall seine eigenen Bilder in einer Einzelausstellung in einer Londoner Galerie hängen.
Der Galerist Domenic Pontone bat Spall, eine Ausstellung zu erstellen, nachdem er seine Arbeiten in der Lowry Gallery in Salford gesehen hatte, wo 14 von Spalls Gemälden in einer Ausstellung gezeigt wurden, um die Veröffentlichung des Films Mrs Lowry & Son aus dem Jahr 2019 zu feiern. "Sprechen Sie darüber, ein bisschen fassungslos zu sein", sagte Spall. "Ich habe eine Herausforderung immer gemocht, aber ich dachte: Jesus, kann ich das tun?"
Er stimmte schließlich zu und schuf 20 Werke über einen Zeitraum von sechs Monaten. Die daraus resultierende Show, Timothy Spall, Out of the Storm, wird im Juni und Juli in der Pontone Gallery zu sehen sein. Es wird Spalls dritter Auftritt in einer Ausstellung sein, aber seine erste Einzelausstellung.
Als 15-Jähriger waren Spalls Leidenschaften Kunst, Schauspiel und die Armeekadetten. Er lernte Panzer mit dem Kadettenkorps in Clapham Junction kennen und erfuhr gleichzeitig von den Impressionisten und Surrealisten bei regelmäßigen Reisen in die Tate. "Ich war besessen von dem Hummer-Telefon", sagte Spall.
Er würde sich letztendlich für die Schauspielerei entscheiden und nach Rada und zum Nationaltheater gehen, aber als er die Gelegenheit bekam, Turner in Mike Leighs gefeiertem Biopic Mr Turner aus dem Jahr 2014 zu spielen, wandte er sich wieder der Malerei zu.
In Vorbereitung auf das Shooting erhielt Spall von einem Malberater, Tim Wright, eine Anleitung, die zwei Jahre lang mit ihm zusammenarbeitete. Spall gewann schließlich den besten Schauspieler in Cannes für seine Leistung in einem Film, der vom Guardian als "äußerst unterhaltsames Studium der letzten Jahre des großen Künstlers" beschrieben wurde.
Spall sagte, Wright habe ihm einen "Kunstgrundkurs" gegeben, um ihn für die Rolle auf den neuesten Stand zu bringen. "Tim hat mir diesen altmodischen Kurs in Malerei gegeben und wir haben alles gemacht, vom Speed ​​Drawing und Speed ​​Painting über Freilicht, Skizzieren bis hin zum Zeichnen im Leben – alles sehr intensiv."
Spall sagte, er wisse, dass er "einige Fähigkeiten" habe, aber er habe erst im Lowry-Film wieder mit dem Malen angefangen, als er zwischen den Einstellungen am Set ununterbrochen malte und begann, seinen eigenen Stil zu finden, indem er seine Arbeit auf einige der 16.000 stützte Bilder, die er auf seinem Computer aufgenommen und zusammengestellt hat.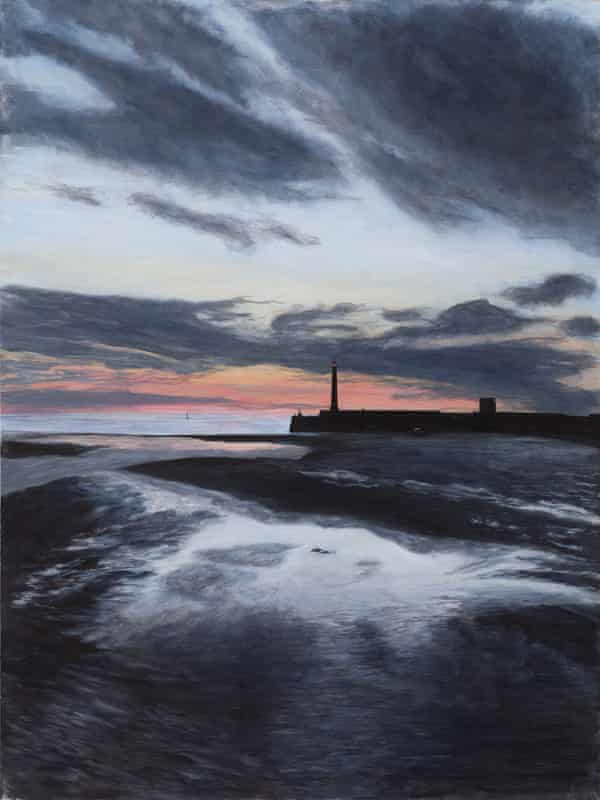 "Ich fing an, Dinge zu malen, die auf sehr starken Bildern basierten, die sich auf die Stimmung und Gefühle bezogen, die ich hatte, und dann passierte plötzlich etwas", sagte er.
Wright sagte, Spall hätte ein "sehr guter Pastiche-Künstler" sein können, nachdem er im Vorfeld des Biopics an einer Kopie eines Turner-Gemäldes gearbeitet hatte, und obwohl Spalls eigene Gemälde hauptsächlich Landschaften sind, sind sie eine Welt fern von Turner, sagte Spall . "Sie sind ziemlich gute Benchmarks, nach denen man greifen kann, wo immer man einen Millimeter darauf kommt oder nicht."
Wright beschrieb Spalls Arbeit als "in der englischen Landschaftstradition … aber es gibt auch Elemente des Surrealen darin". Spall will es anderen überlassen, die Arbeit zu kritisieren, und er sagte, er sei sich bewusst, wie glücklich er sei, eine Ausstellung seiner eigenen Bilder zu haben.
"Tausende brillante Künstler werden nie erkannt, und das weiß ich auch", sagte er. "Das geht mir nicht verloren, dass ich diese Gelegenheit bekommen habe, wenn es brillante Künstler gibt, die keinen Blick darauf werfen."
Spall erwartet eine negative Reaktion auf einen Schauspieler, der Maler wird, aber er sagte, die Disziplin, Malen zu lernen und dann das Werk zu schaffen, habe jeden Hinweis auf ein Betrugssyndrom aufgelöst.
"Ich habe mich darauf konzentriert, nicht als Abend- oder Hobby-Sache, sondern als absolut entschlossene Sache. Ich habe es durchgemacht und es getan. Ich habe den ganzen Prozess durchlaufen und bin kein Betrüger, weil ich es getan habe. "